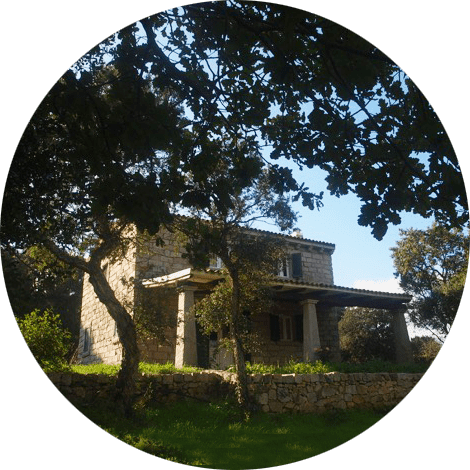 SA MARIOLA
Sa Mariola is an old vineyard house that was constructed in the second half of the 19th century and completely renovated in 2013. Once at the centre of the grape harvest, it is now a peaceful oasis in the heart of the Sardinian countryside. Surrounded by vineyards, oak, holly oak and wild cherry trees, Sa Mariola is the ideal location for spending a relaxing vacation with family or friends. Welcoming and spacious, the house can host up to five people and is equipped with all comforts. The veranda and surrounding garden enable you to make the most of the house with al fresco lunches and dinners among the fragrant flowers.
The Structure
The house has two floors. The ground floor consists of an open kitchen that faces the living room, and a small bathroom. The master bathroom with bathtub is located on the first floor, as are the three bedrooms – a double room, a twin room and a single room to which a crib can be added – which can easily accommodate up to five people. The house also boasts a veranda with porch, designed for al fresco eating, with a view of the garden and the stunning rose bed.
THE FARM
The huge garden surrounding Sa Mariola is dotted with trees that are typical of Mediterranean shrubland. The imposing oaks and holly oaks are joined by cherry, apricot, plum, peach, fig, pomegranate and walnut trees. And it is thanks to the generosity of the fruit orchard that Sa Mariola is able to produce its own jams. To learn more about our fruit, conserves and the medicinal herbs we grow in the garden, visit the dedicated section.
The Land
Sa Mariola is situated in Campos, on a two-hectare farm that includes a wood of oak and holly oak trees. Located close to this haven of silence and tranquillity is Luras, a little village of 2000 inhabitants that is just a short walk or a few minutes' drive away. To learn more about the area, visit the dedicated section.
.